Amenities/Facilities
Our resort is a great place to socialize, relax, play games, and enjoy a cold beer, soda or fresh coconut water.
Hammocks and Swing Beds are located around the property for enjoying the ocean view, and swinging in the ocean breeze
Adirondack Chairs and Beach Chaises are located throughout the property
Refreshing Outdoor Rainwater Showers, heated by the sun and centrally located
State of the Art Composting Toilets (where we turn human waste into compost), also centrally located
Hand Wash self service Laundry facility
Yoga/Luna Deck located hovering over the reef crest, perfect location for watching dolphins, stars and moonrise
Groomed Nature Trail that circumnavigates the island, self guided pamphlet provided describing birds, trees, plants, wildlife, brief island history of the island
Gift Shop, local art and trinkets, t-shirts, sarongs, sundresses, hats etc
Cell phone coverage/internet is now available at Glover's. You can sign up for your International Roaming with your AT+T, Verizon, or home phone plan. Or you can purchase a local sim card and data plan from the Belize Telecommunications office at the International Airport or in Dangriga. BTL offices are not open on the weekends.
Gift Shop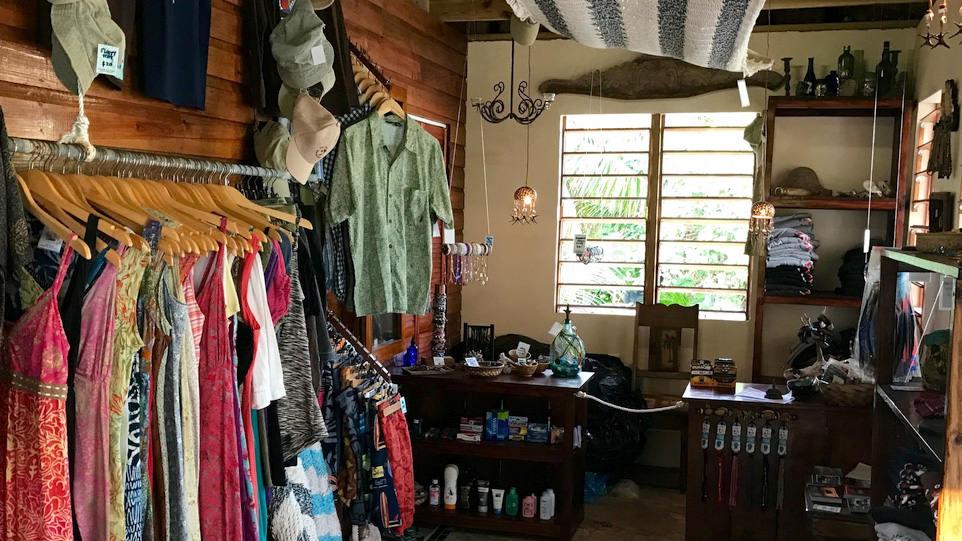 Dining Palapa
Our spacious, beach front, dining Palapa with thatched roof and sand floor is open for catching the cool breeze and enjoying the spectacular view of the lagoon while dining on our delicious Belizean Cuisine. We take pride in our local food dishes, consisting of several fresh seafood meals that often include fresh snapper with lime and cilantro, grilled shrimp and vegetables with pasta and fresh Alfredo sauce and a traditional conch stew. We serve many other Caribbean gourmet meals with chicken, pork, beef, locally grown vegetables, fresh herbs from my garden, tropical fruits, daily baked breads and tortillas and scrumptious desserts such as coconut flan or fresh pineapple dipped in chocolate. Your dining experience will be one of your many highlights of your holiday.
3 meals provided daily, served to you. Open air dining and outdoor seating available.
Coffee, tea, juice, purified water and fresh coconut water available any time
Dietary Restrictions: There are some dietary needs we may not be able to accommodate due to our remote location, please inquire in advance.